2020 Mindful + Intuitive Eating MasterMind Group with Jennifer Hnat, RDN
February 20 @ 6:30 pm

-

8:30 pm

$125.00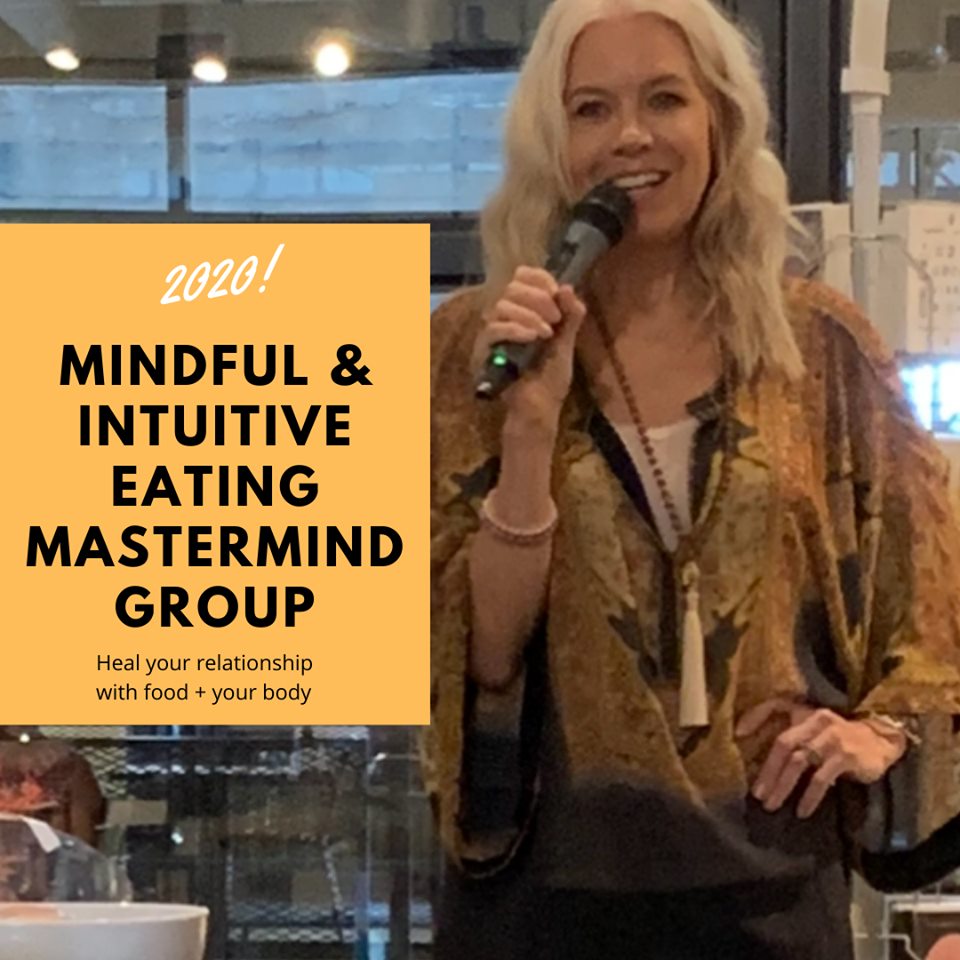 This is a first come offering and if you feel aligned, please secure your space today by responding to this email HERE or texting me at 404-353-2382 (I respond quicker via text).
Mindfulness is a practice of tapping into the present moment to observe, with compassion and curiosity, what is going on around and inside you.  It's a valuable tool to help you connect the personal dots of why you do what you do with food.
Intuitive eating is the self-care framework that helps delete diet culture behaviors, beliefs, habits, patterns and thoughts.  Even though intuitive eating is a bit more expansive than mindful eating, fusing the two can break the diet bondage and heal any disordered relationship with food and the body.
Jennifer will guide this MasterMind group, creating a venue for open and honest exploration of food challenges, nutrition science, personal breakthroughs (including her own), insights and possibilities that arise during the profoundly liberating journey to food freedom and body kindness. 
During our 2-hour monthly group we will incorporate:
* Compassionate discussions on mindful + intuitive eating
* Monthly eating skill(s) to work on and master each group
* Open Q&A each group for accountability + transformation
* Scientifically-proven techniques effective for stress management
* Ancient healing rituals created to positively shift the body on a cellular level
* Breath work, guided visualization, meditation, and more
* Private Facebook group for ongoing support
* Supportive healing in a group environment
Ultimate Mission:
To blow the doors of the new 2020 decade wide open, shift your nutrition perception, reframe your food thoughts and free up the emotional, mental and physical real estate that it zaps from you. 
I will compress multiple decades of food struggles, diet habits + body wisdom into one year of mindful + intuitive eating habits. Step by step, you will get a distilled version of how to overcome the body/weight obsession, how to navigate the confusing world of nutrition as well as healing rituals to build a powerful and successful connection with your belly and brain. 
We're going to heal your relationship with food from the inside out with science, spirituality, and unbiased support.You'll learn how to be the expert of your body from the food and nutrition expert, me. 
We'll discuss your own Unique Nourishing System (UNS).  It's a way to tap into your mindful + intuitive eating super power: your unique ability to tune into your body and know what it needs in that moment and then move on with your life without guilt, shame or food fallout.
I will teach you strategies for success for another level of life. I have created an approachable, in-person program for a healing group, the very thing I wish I could have tapped into during my chronic wrestling match with food, dieting, and my body.  This is all of me, for you. 
Magic happens when women come together to hold a safe space for profound change. True healing happens in a private and supportive community to elevate our relationship with food, our body, belly, mind and spirit!  This is a closed group that requires a one-year commitment.
This is a first come offering and if you feel aligned, please secure your space today by responding to this email HERE or texting me at 404-353-2382 (I respond quicker via text).
For those NOT in the Atlanta area, I will be creating an online version as well so stay tuned for those details.
Time + Location: 
This group will meet the second Thursday every month from 6:30pm to 8:30pm (2-hours) in the group room at The Center for Love & Light (1145 Zonolite RD NE #10, Atlanta, GA 30306). Love & Light is a Wellness Center in North Druid Hills by Emory University off of Johnsons Road and Clifton Road.  
Dates:
January 9, February 20 (moved to 3rd week due to Valentine's schedule at Love & Light that week), March 12, April 9, May 14, June 11, July 9, Aug 13, Sept 10, Oct 8, Nov 12, Dec 10* (*special session for end of year group)
Fees: 
$125 per group.  Cash, check, Venmo or credit card is accepted the day of the group or you can pay for the year in advance for a $100 savings (cash, check or Venmo only). 
Since this is a closed group, please note that payment is due even if you have to miss a group in order to hold your space just like a missed late-cancel appointment. 
Registration: 
Contact Jennifer at Jennifer@nutritionatlanta.com text or call 404-353-3482 with any questions that you might have.  
I want to say thank you for supporting my life's work, even if you don't join this group. If you are, I can't wait to expand with you in 2020! Your greatest challenge can be your greatest gift…