Alchemy of Presence with Alyce Wellons, LCSW and Lena Franklin, LCSW
September 28, 2019 @ 10:00 am

-

4:30 pm

$195.00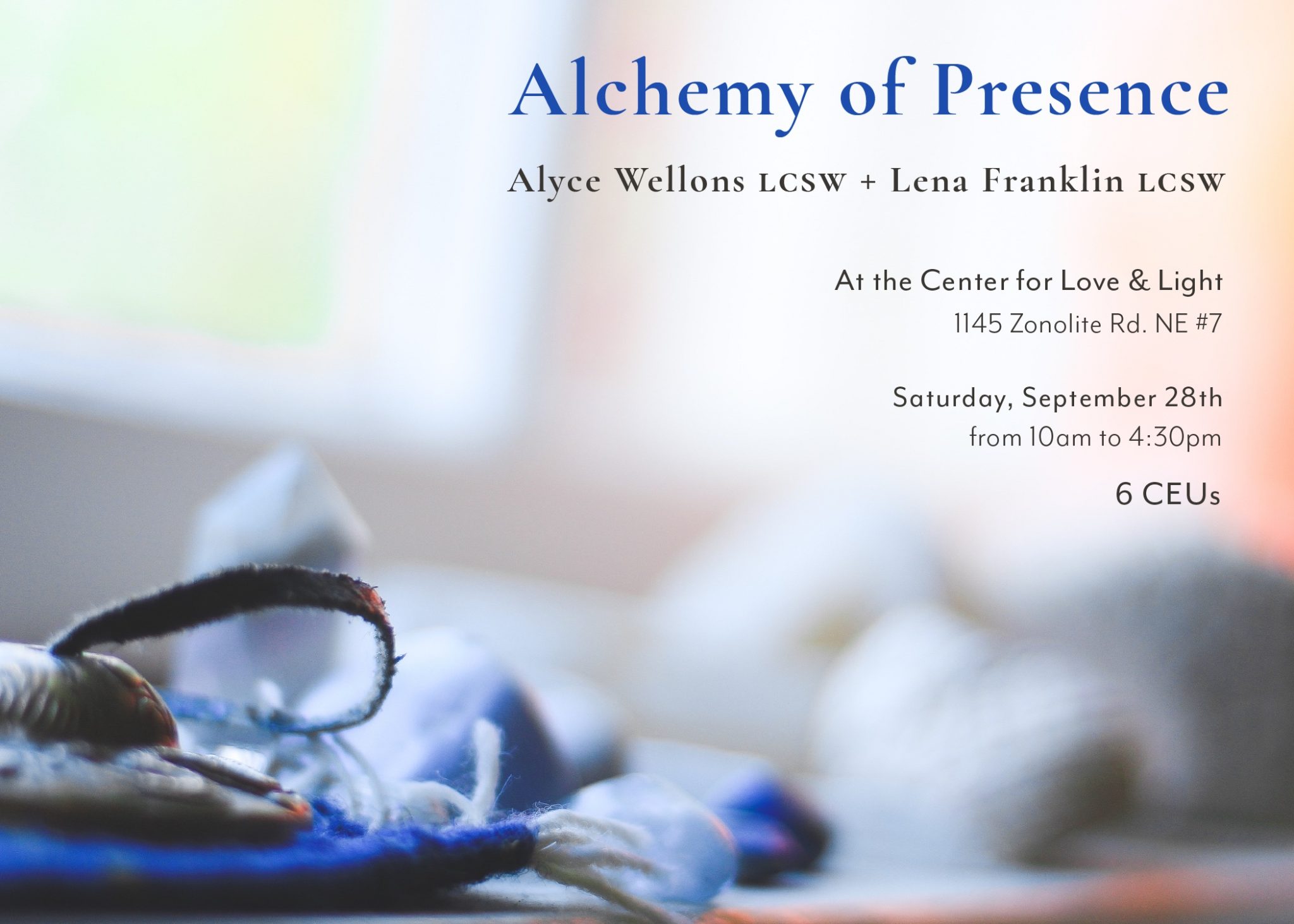 "Through the alchemy of mindfulness, meditation, and yoga, we create engaged, energetic and expansive moments for transformational healing for ourselves and others."
Alyce + Lena
This daylong, retreat-style workshop is for therapists, mental health providers, yoga teachers, coaches and truly anyone who desires to learn the alchemical tools of mindfulness, meditation, and yoga to deepen their work with clients.
We can only meet those who sit before us at the depth we've met ourselves. When we inhabit our own minds, bodies and energy fields with expanded awareness, we enhance our own healing capacity while simultaneously deepening our work with clients.
As practitioners working with others, we can BE the alchemists of pain and suffering through our capacity to be present with the inner experience, skillfully choosing practices that shift and transmute energy, resulting in elevated psychological, emotional and spiritual health.
This workshop will be an experiential immersion where you'll practice your own sacred self-care in order to learn the embodied practices that can be directly translated into work with clients.
The transformation begins with US as the conduit for healing.
YOU WILL LEARN
* How to cultivate an ethical, safe container for yourself and for your client(s)
* Mindful movement, poses, breath work, sound, and mudras to address stress, anxiety and depression with your clients right in the office
* Therapeutic applications of these philosophies and practices for various psychological imbalances
* Tenets from yogic philosophy, neuroscience, attachment, and Buddhist psychology
* Practices to set energetic boundaries for you
* Compassion-based practices (including scripts)
* Information on training's and teachers for deeper intensive work with these modalities
* A day of sacred self care for YOU!
PLEASE NOTE: No yoga or meditation experience is required, and adaptations can be made with every activity. Everything can be done on the cushion, mat, or in a chair.
We believe that the alchemy of breath, movement, and presence allows each moment to be transformative. As we become conscious of our inner life made of thoughts, feelings and body sensations, we can embark on the healing journey of shifting maladaptive patterns that have kept us stuck. Through the integration of breath, movement, and presence, we elevate ourselves into our highest human potential.
WHEN / WHERE
The event will take place on Saturday, September 28: 10:00am ~ 4:30pm
It is being held at The Center for Love and Light. This is a large, light filled space in Virginia-Highlands, which includes a reclaimed wood wall and huge windows opening to a patio and an 11 acre green space with walking trails.
Parking is free and plentiful. The space is handicap and wheelchair accessible.
This is truly an urban oasis, a hidden gem and a perfect setting for learning!
Address:
The Center for Love and Light
1145 Zonolite Rd NE
Suite #7
Atlanta, GA 30306
Please check out their website for further directions as well as pictures of the space:
https://withloveandlight.com
WHAT TO BRING
The day will take place on the mat and cushion. We will have chairs/tables available and will make every effort to ensure that you are comfortable and able to participate fully in the practices. We will provide mats and cushions but if you would like, please bring your own as well as anything you want to have with you that invites deepening energetic presence. This might include crystals, essential oils, and objects that are part of your meditation and yoga practice. And bring a journal for reflection and self inquiry.
Dress is casual and comfortable for ease of movement
Layering We strongly encourage you to bring layers and a light blanket. Being seated or lying down can cool the body, we will be inside in air conditioning, outside for lunch and practices weather permitting…and layers are always recommended at a workshop!
LUNCH:
Please bring your own lunch that doesn't require cooking/heating up. We will not be going off site for lunch as that time will be part of the workshop (think mindful eating + meditation practice of self inquiry). We will have beverages, hot and cold, and snacks of all kinds available throughout the day. As always, bring whatever specific food or beverage you require that we might not have available.
REGISTRATION
We are limiting the workshop to 25 participants to cultivate a personalized approach to the training, as well as allowing for safety and intimacy in participating in the experiential components.
You an contact Alyce directly at 404.664.3110 or alycewellons@hushmail.com for questions.
CEUs:
Your fee of $195.00 will cover all costs including snacks and beverages thru -out the day, a thorough binder with pictures and explanations of all practices, scripts for some practices, and a 6 hour CEU certificate approved by the Georgia Society for Clinical Social Work.
Please contact me for further details and to discuss any questions you may have.
PRESENTERS
ALYCE WELLONS, LCSW ~ Alyce has been a licensed clinical social worker in Georgia since 1999. She has maintained a private psychotherapy, supervision, and consultation practice for over 17 years in the Virginia Highlands area of Atlanta. Alyce sees individuals and couples for short- or long-term psychotherapy. She has experience and training in a number of modalities and areas of psychotherapy. Her areas of expertise and theoretical focus are attachment, addiction/recovery/relapse, dissociation, interpersonal theory, neurobiology, PTSD, trauma, and related work with individuals and couples. She has practiced, supervised, written, and taught on many areas of the ethics, craft and practice of psychotherapy. In addition to over 17 years of training and experience in the practice of psychotherapy, Alyce believes in the use of respectful humor and laughter as one of the most wonderful and connecting aspects of life, especially in navigating some of the difficult passages we face along the way.
LENA FRANKLIN, LCSW
~ Offering the ancient practices of mindfulness and meditation utilizing a fresh, modern voice is the essence of Lena's work.. As a Mindfulness-Based Psychotherapist and International Spiritual Teacher, Lena will teach you that "to journey in inward is your highest calling." Integrating Eastern philosophy with Western neuroscience, Lena's holistic healing work is grounded in Buddhist Psychology, Mindfulness Meditation, LifeForce Yoga and Insight Yoga in addition to psychodynamic foundations. Lena has a mindfulness business based in Atlanta, GA where she sees individual clients, provides mindfulness corporate trainings, teaches personal growth workshops and guides meditation retreats around the globe. Lena is also the Head of Mindfulness for Welzen, a mindfulness meditation app featuring practices and programs to enhance your health and happiness. Raised in a hybrid Buddhist/Christian household, Lena was introduced to meditation as a young child. Today, this mindfulness foundation has grown into a deep passion to guide others on a journey towards inner peace, emotional balance and a felt sense of wholeness. Lena has been featured in various media outlets including the New York Times, Modern Luxury and World Traveler magazines. Please visit her website to learn more about her practice and schedule of wellness trips, retreats, and continuing education offerings: 
www.lenafranklin.com