Be You Own Shaman: Shaman Empowerment Workshop with Erin Newman
April 20

-

April 21

$297.00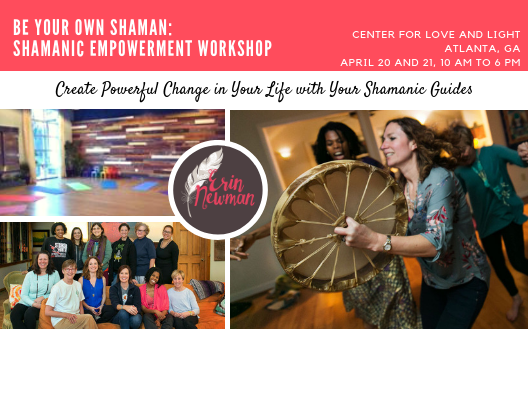 Have you been asking..
What's next for me?

How do I follow my calling with integrity and authenticity? (without everyone thinking I'm crazy!)

How do I follow this spiritual path when everyone else around me…well, isn't?

How do I move forward? What does it look like? What are my next steps? Will I be successful?
This is for you if…
You have healing and intuitive abilities and you would like to bring those more into your work and life

You feel as if you have been keeping some parts of you hidden and are ready for transformation

You are ready for more alignment with your desires, wishes, and true self

You enjoy community with soul-centered peeps

You have been wanting to explore the path of the shaman in more depth
Prerequisite:
This workshop is for those who have explored Shamanism (or similar work) before. 
Shamanism is an ancient path of discovering answers, healing, and clarity by entering into a space where it is possible to hear from guides, angels, power animals, and helping spirits. These beings go by many different names in many cultures, and we will enter into a safe, sacred and protected space in which we can open ourselves to the answers that they can provide.
Through the use of a simple drum beat, we will create a theta-wave trance state (similar to a state right before sleep) , and from there enter into a Shamanic journey.
Leave the workshop with: 
an ancestral guide for healing, insight, and exploration of ancestral patterns and blocks

restoration of power to and energy to self

the ability to turn to your Shamanic guides at any time for insight, direction, and guidance

the wisdom and knowledge you need to follow your heart and intuition