Ethics in Digital Marketing for Counselors and Mental Health Professionals
February 22, 2019 @ 10:00 am

-

1:15 pm

$95.00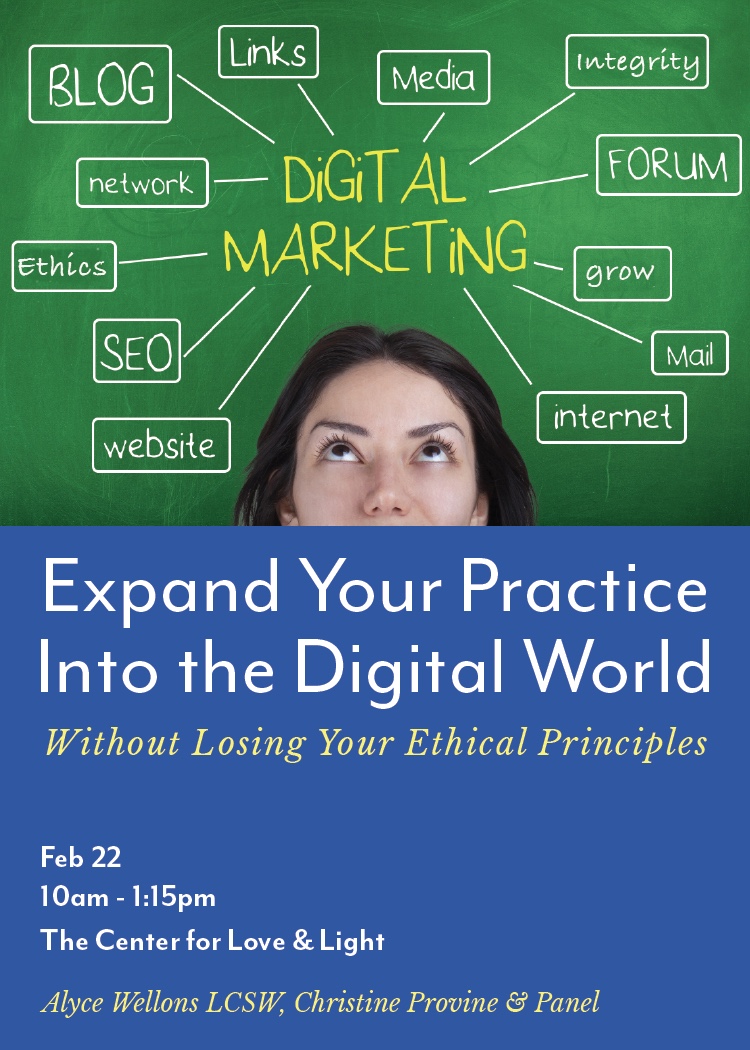 This workshop and Panel will discuss how to use social media in a way that holds the integrity and boundaries needed in our field.  We will outline how to cultivate relationship and meaning in social media, and the ways it can be used professionally. Creating an understanding and relationship with it now allows us to understand the needs of our profession and grow with technology. The day will include breakout sessions to explore ethical concerns and questions in small groups.  The Panel will include industry experts who work with therapists on how our profession in particular can use this digital technology and social media in a current, productive, and ethical manner.

Participants will leave with a specially curated questionnaire to help them ask and answer questions about how they would like to use social media professionally.

You'll walk away having explored how, when, and why to curate and cultivate your professional branding while maintaining ethical principles and integrity.   

THE DAY WILL INCLUDE: 

* A brief overview of the field from therapist as a blank slate to the present day explosion of the digital world.  This discussion will include everything from websites to social media

* Break out experiential discussions with prompt questions including what does branding mean to you, and how to manage it maintaining ethics and integrity

* Group resuming to process break out sessions, white board thoughts and ideas on branding as mental health professionals while maintaining ethics and integrity

* Resources and branding worksheets curated for mental health professions by industry experts to help you craft branding with ethics in a way that fits your professional identity

 

The event will take place on 

Friday  February 22, 10:00am ~ 1:15pm

It is being held at The Center for Love and Light.  This is a gorgeous space in Virginia-Highlands, which includes a reclaimed wood wall and huge windows opening to a patio and an 11 acre green space with walking trails.  The space is handicap and wheelchair accessible.  This is truly an urban oasis, a hidden gem and a perfect setting for learning!

The Center for Love and Light

Please check out their website for further directions as well as pictures of the space:

You can register directly on Alyce E. Wellons, LCSW website:  

We are also glad to register you for the event by phone.  You an contact  Alyce directly at 404.664.3110 or alycewellons@hushmail.com for questions.  

Your fee of $95.00 will cover all costs including snacks, branding worksheets for you to take home, and a 3 hour Ethics CEU certificate approved by the Georgia Society for Clinical Social Work.. 

Please contact me for further details and to discuss any questions you may have. 

ALYCE

 WELLONS, LCSW

~ 

Alyce

 has been a licensed clinical social worker in Georgia since 1999.  She has maintained a private 

psychotherapy

, supervision, and consultation practice for over 17 years in the Virginia Highlands area of Atlanta.   

Alyce

 sees individuals and couples for short- or long-term 

psychotherapy

. She has experience and training in a number of modalities and areas of 

psychotherapy

.  Her areas of expertise and theoretical focus are attachment, addiction/recovery/relapse, dissociation, interpersonal theory, neurobiology, PTSD, trauma, and related work with individuals and couples.  She has practiced, supervised, written, and taught on many areas of the ethics, craft and practice of psychotherapy.   In addition to over 17 years of training and experience in the practice of 

psychotherapy

, 

Alyce

 

believes in the use of respectful humor and laughter as one of the most wonderful and connecting aspects of life, especially in navigating some of the difficult passages we face along the way.

CHRISTINE PROVINE ~ 

Owner + Art Director at Hopzcotch House

Christine has a background in Urban Design and Community Development from Georgia State University and a previous career in Art Consulting with an Atlanta fine art consulting company, Soho Myriad. She is a certified E-RYT 200 Kripalu Yoga Instructor and has been working in wellness, yoga, and humanitarianism for 7+ years. She has won the GSU Global Citizen Award and has been recognized as a "Community Connector" in the Southwest Airlines Heart of The Community Grant. In 2018 she founded a branding and design company, Hopzcotch House with her business partner and sister. Their company works specifically with ethical businesses and organizations that provide sustainable positive social and/or environmental impact. Christine specializes in art direction, visual storytelling, and guiding people to dig deep into the root and heart of what they want to create in the world.

@ele_v8


Owner + Visual Designer at Hopzcotch House

Lexie has a background in design from the Portfolio Center / Miami Ad School in Atlanta. Her specialty is visual storytelling, design thinking, and brand development in addition to her love affair with typography. In 2018 she founded a branding and design company, Hopzcotch House in 2018 with her business partner and sister. Their company works specifically with ethical businesses and organizations that provide sustainable positive social or environmental impact. In addition to running her company, Lexie is a furniture designer with Vicarious Customs, a handcrafted custom furniture design and fabrication company in Atlanta.

She has won design awards from Graphis Design USA, the Institute of Packaging Professionals, and AIGA.

 

Kris is a professional photographer and social media guru. In 2016 she gained a large and successful social media audience when she began writing blog posts for a backpacking company called Granite Gear, while hiking the Appalachian trail. She is passionate about taking care of mother earth and promotes eco-consciousness while inspiring her following to spend more time in nature. She continues to build her personal brand along with her photography business. In summer 2018 she joined the Hopzcotch House team as Social Media Specialist and has been working on several accounts with a focus on ethical services, nature and wellness. Most recently she has been leading the social media marketing strategy and team for Psychotherapist and LCSW, Alyce Wellons.