Communion: Commune. Unite. Heal. Celebrate women's untold stories with film
October 27, 2019 @ 4:00 pm

-

7:00 pm

$25.00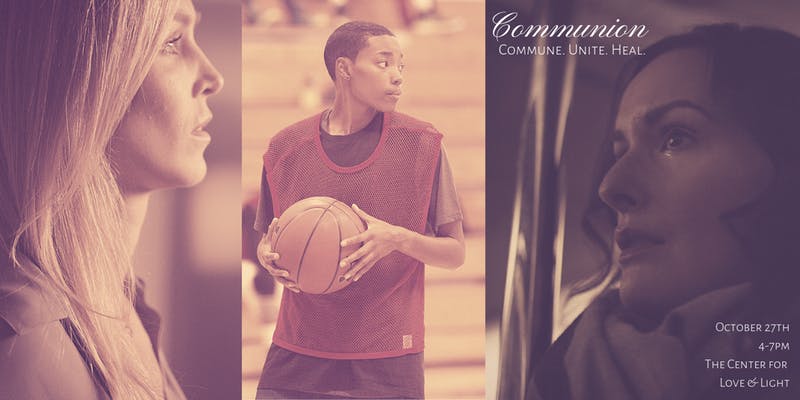 About this Event
Inspired by the toll of current events, "Communion," will lift up the voices of women by celebrating our untold stories with all proceeds going to support the nonprofit, SisterSong, whose mission is to strengthen and amplify the collective voices of indigenous women and women of color to achieve reproductive justice by eradicating reproductive oppression and securing human rights.
Commune with us on Sunday, October 27th from 4pm – 7pm at an event for women. This collective event, hosted in collaboration with The Love and Light Institute, will offer a unique experience for women to witness, reflect and share.
Communion is a non-binary and trans inclusive event.
Communion:
~ The screening of three award-winning short films made by and for women.
~ Guided group discussion with the filmmakers about the emotional impact of the films and a call to action around female support and empowerment.
~ A meditation and sound bath to release and settle the emotions that might arise in response to the films while closing the evening with a sense of unity and peace.
The event will be led by filmmakers:
Caroline Slaughter [LAMB] Writer/Director – Caroline feels a responsibility to tell the truth in her work with content that impacts, raising awareness around social issues to ignite conversation and champion change. Caroline graduated from the New School University and launched her career in the industry as a performer in New York. She went on to perform and produce New York and London theater collaborating with writers like Beau Willimon (House of Cards), Elizabeth Meriwether (New Girl), Billy Eichner (Difficult People) and with institutions that include LAByrinth Theater Company, The Public and The Flea. Caroline made the transition to writing working on sketch comedy with Upright Citizens Brigade in Los Angeles, which led to co-writing a screenplay with Jay Lavender (The Break-Up) and developing the pilot FALSIES with FX Networks. A move to Atlanta led to a commercial casting stint that developed into a commercial directing career with brands that include Meyer Natural Foods, Pellegrino and Under Armour. Caroline's award-winning short film LAMB is on the festival circuit and being used as a vehicle to support the women's movement.
Desirée Matthews [The Great Unknown] Writer/Actor/Producer – Desirée is inspired to explore the dynamic between the great joys and profound sorrows of life in her work. A fierce advocate for women's stories and perspectives, Desirée hopes to offer narratives that have often remained unseen or uncelebrated. A graduate of Boston College in Theatre and English, Desirée continued her studies in San Francisco at the American Conservatory Theater, and in New York with master teachers Olympia Dukakis, Dianne Wiest and Fay Simpson. An actor for twenty five years, she has performed in many Off- Broadway plays, independent films, devised theatre projects and commercials. Other film credits include "Split," "My Movie Girl," "Howl," "Julie & Julia," and "Lurking in Suburbia." "The Great Unknown," Desirée's screenwriting debut, has screened all over the country, most recently picking up the Best Female Filmmaker Award at the Cordillera International Film Festival. www.thegreatunknownfilm.com
Jeannie Donohoe [GAME] Writer/Director – Jeannie is an award-winning filmmaker based in New York and Los Angeles. She has written and directed several short films, including GAME (screening in over 200 festivals and recipient of 65+ awards internationally, including two Oscar-qualifying awards at Raindance and NYICFF, Cannes Bronze Lion, Vimeo Staff Pick), Lambing Season (selected for over 50 film festivals; Aspen Shortsfest winner, named one of the "Best Short Films of 2014" by Indiewire; currently airing on PBS Film School Shorts) and Public (Palm Springs ShortFest, PBS Imagemakers). Jeannie was selected from over 4,600 applicants to write and direct GAME through the Lexus Short Films program. Jeannie earned her MFA with honors in Directing from Columbia University. She attended Dartmouth College as an undergraduate, and also earned an MS in Education while teaching middle school in the Bronx through the Teach for America program. Jeannie is currently developing her first feature-length film.
A circle of women may just be the most powerful force known to humanity. If you have one, embrace it. If you need one, seek it. If you find one, for the love of all that is good and holy, dive in. Hold on. Love it up. Get Naked. Let them see you. Let them hold you. Let your reluctant tears fall. Let yourself rise fierce and love gentle. You will be changed. The very fabric of your being will be altered by this, if you allow it. Please, please allow it. – Jeanette LeBlanc
#transinclusive
#nonbinaryinclusive