Master Class: The Chambered Nautilus with Alyce Wellons LCSW, Joanna Colrine, & Jess Harris Bathrick
October 25, 2019 @ 9:00 am

-

4:30 pm

$195.00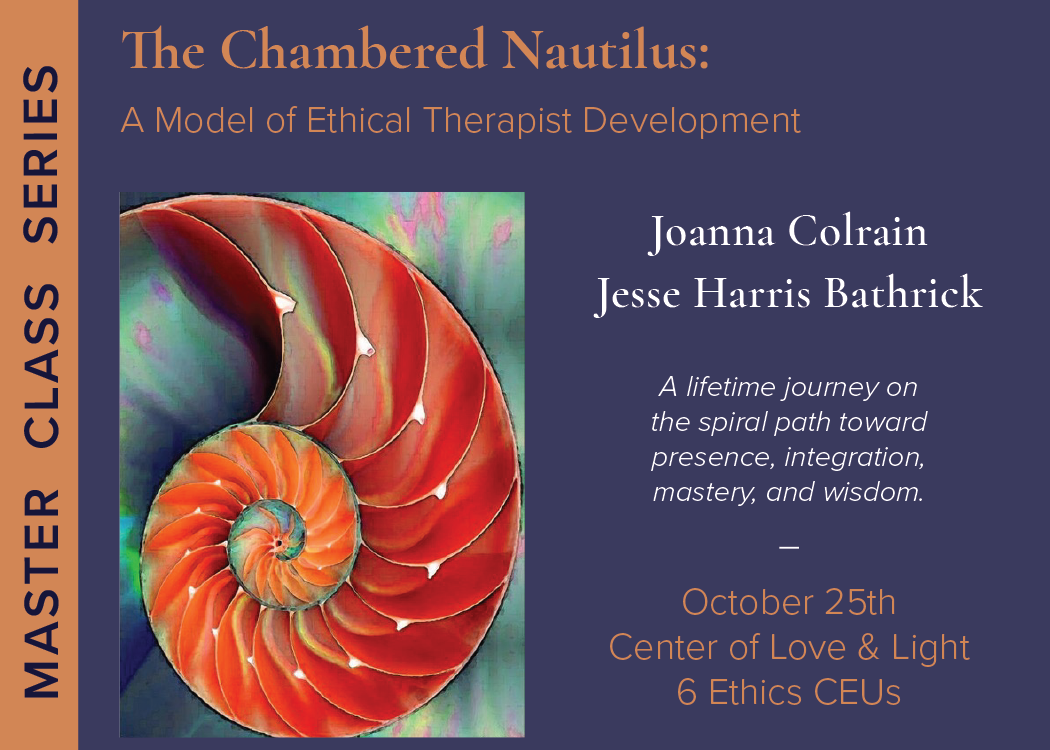 "To exist in nature is to change; 
to change is to mature; to mature is to go on 
creating one's self endlessly."  
~  Henri Bergson
I am truly honored to announce a Master Class CEU event with Joanna Colrain, LPC + Jesse Harris Bathrick, LMFT. This is a one of a kind opportunity for learning, reflection, and journeying with two of our true gifted masters. 
With the richness of their combined 80 years of experience, Joanna and Jesse will share their own challenges and breakthroughs in growing their nautilus shells into ever more spacious, integrated, authentic chambers.
Jesse and Joanna will present a developmental model for awareness and ethical growth throughout the life phases of the psychotherapist.   
This workshop will be experiential, with time for both reflection and discussion.
Like the chambered nautilus who grows into a new, larger chamber on its spiraling journey to 
maturity and wholeness, how do we as therapists master the tasks, meet the challenges, and weather 
the existential crises that are an essential 
part of our development?
·      What are the developmental tasks that challenge us to grow?
·      What are the stumbling blocks that can cause stagnation?
·      How did we choose this role in the first place?
·      What are the ethical dilemmas that can arise if we ignore the challenges?
LEARNING OBJECTIVES
·        Articulate the particular circumstances and/or family dynamics that led them to choose the role  of therapist.
·        Identify ways in which they have carried and/or transformed those dynamics throughout the phases of their career.
·        Name the major phases of therapist development and at least two developmental tasks for each phase.
·        Name three common stumbling blocks in a therapist's journey to maturity and wisdom.
·        Name three ways in which our own ethical development benefits the client.
 WHEN + WHERE
Friday, October 25, 2019 
9:00am – 4:30pm
It is being held at The Center for Love and Light. This is a gorgeous space in Virginia-Highlands, which includes a reclaimed wood wall, a beautiful water feature, and huge windows opening to a patio and an 11 acre green space with walking trails. The space is handicap and wheelchair accessible. This is truly an urban oasis, a hidden gem and a perfect setting for learning!
Address:
The Center for Love and Light
1145 Zonolite Rd NE, 
Suite 7 
Atlanta, GA 30306
Please check out their website for further directions as well as pictures of the space:
https://withloveandlight.com/